Rajshahi, Dec 6 (Just News): The authorities have closed Rajshahi Institute of Health Technology (IHT) for an indefinite period to avoid untoward incident following an attack of Bangladesh Chhatra League (BCL) activists on female students.

BCL is the student wing of ruling Bangladesh Awami League (AL).

The authorities asked the institue's male students to vacate its dormitories by 1:00pm and female students by 3:00pm.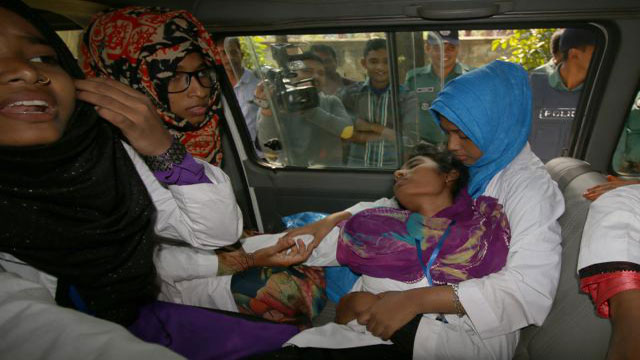 Female students alleged that a group of BCL activists entered the female dormitory and hurled abusive words at female students on 3 December as some of them could not turn up at a programme of the Medical Technologists held on the campus on the day.

The female students of the institute on Wednesday morning went to the principal office to lodge a complaint against the BCL activists. The principle then assured them of taking actions after investigation.

When the female students were about to come out of the principal office, BCL activists brought out a procession chanting slogans against them, frightening female students to return to their dormitories.

At one stage, the principal of the institute himself escorted students to the dormitories.

Students alleged BCL activists attacked some of them who fell behind while the principal was escorting them to the dormitory, leaving five female students injured.
IHT, BCL, Awami League, Prothom Alo

The BCL activists launched the attack even in presence of the principal and the police. And police took no action, alleged the students.

BCL, however, denied the allegation and the principal echoed it.

BCL's IHT unit president Zahidul Islam claimed that female students got frightened when BCL activists chased certain Mizan, who he claimed is a mentally retarded ex-student of the institute, after Mizan chanted slogans against BCL.

"And some of the female students fell sick. Attacks were not launched on them and it will be proved in medical certificates," he claimed.

Later, the academic council of the institute sat for an emergency meeting and decided to close the institution for an indefinite period to fend off any unwanted situation.

When approached, institute principal Sirazul Islam said, "BCL did not launch attacks on female students. Some of female students sustained injuries while hastily entering the dormitory."

(Just News/ys/2355hr)