London, July 13 (Just News): The United States President Donald Trump has arrived at Chequers, Prime Minister Theresa May's country residence, and met with the UK Prime Minister.
Trump is holding talks and will have a working lunch on Friday with Mrs. May — followed by tea with the queen — but his interview with The Sun could put a chill on the encounter.
Mrs. May has worked to maintain cordial relations with Mr. Trump, mindful of her country's desire to strike a post-Brexit trade deal with the United States, but he told The Sun that her current approach "would probably end a major trade relationship with the United States."
Trump said at a news conference that "they like me a lot in the U.K.," but he was greeted with protests on Thursday that continued into Friday, including a giant balloon depicting him as a snarling baby in a diaper. He is largely avoiding London, telling The Sun, "When they make you feel unwelcome, why would I stay there."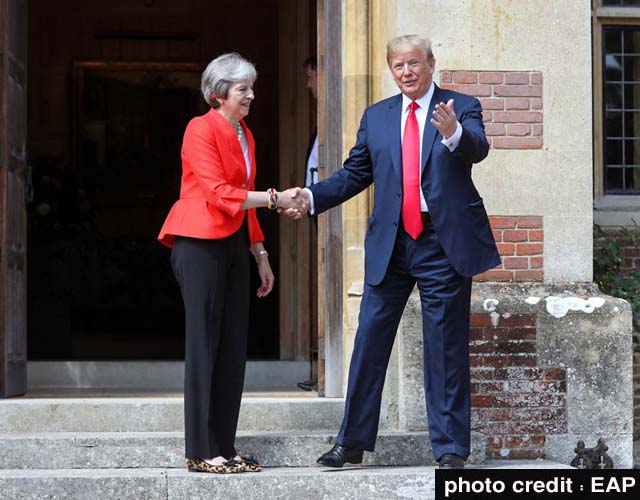 The NATO meeting ended with Mr. Trump reaffirming his support for the alliance, but only after a confrontation in which he said leaders had agreed to increase spending — a claim that at least two European leaders disputed.
(Jsutnews/ys/1800hr)