Helsinki, July 16 (Just News): The US President Donald Trump on Monday said getting on with Russia is "a good thing, not a bad thing" at the start of his first summit with Vladimir Putin.
Mr Trump said he hoped for an "extraordinary relationship" as the two presidents met in Helsinki, Finland.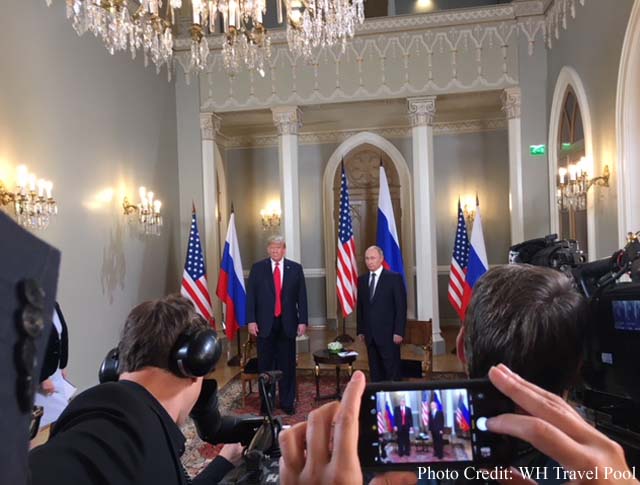 The two leaders looked serious as they sat down side by side.
Each made introductory remarks to the press through their interpreters who will be alone with them during an opening session of talks without advisers.
President Putin spoke first, saying there were enough difficult multinational issues that they needed to discuss them.
President Trump started by congratulating Vladimir Putin for hosting an extraordinary World Cup.
President Donald Trump has congratulated his Russian counterpart on a successful World Cup, before outlining some of the subjects they would touch on during today's meeting.
"I would congratulate you on a really good World Cup, one of the best ever," Mr Trump said.
Mr Trump, whose words were translated into Russian for Vladimir Putin, said they would discuss "everything", from trade to military to China.
He added: "We [the US and Russia] have not been getting along very well... it's getting close to two years.
"Getting along with Russia is a good thing, not a bad thing."
Mr Trump also said he hoped they could "do something" about their nuclear arsenals.
President Putin said, "Distinguished president, it's a pleasure to meet you here on hospitable Finnish soil in Helsinki".
"We continue to have regular contacts - we have talked on the phone and met several times at various international events.
"But of course, now it's time to talk in detail about our bilateral relations and various problem areas in the world. There are a lot of them."
(Justnews/ys/1850hr)