Dhaka, Feb 14 (Just News): As part of its countrywide programme, BNP leaders and activists start observing a 6-hour hunger strike in the city demanding the release of its chairperson Begum Khaleda Zia from jail.
On 8 February, a makeshift court in Dhaka sentenced former prime minister Khaleda Zia to five years in jail in a case. Hours after the judgement, Khaleda Zia landed in the abandoned central jail at Nazimuddin Road in Dhaka.
The programme began around 10:00am in front of the National Press Club. It will continue until 4:00pm.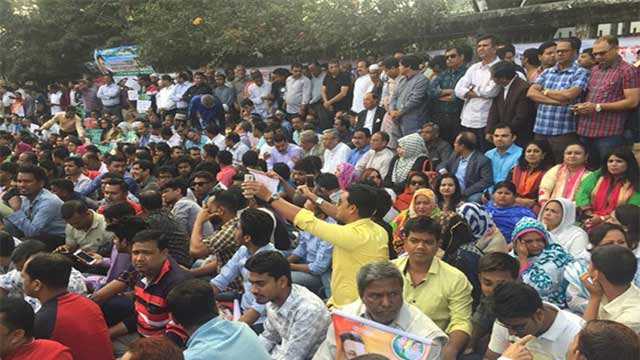 Several hundred leaders and activists, including party standing committee members Khandaker Mosharraf Hossain, Moudud Ahmed, Nazrul Islam Khan, Amir Khasru Mahmud Chowdhury, joined the programme amid tight security by police.
BNP's different district and city units are also scheduled to observe similar programmes at their convenient time and places.
Earlier, BNP leaders and followers formed a human chain in front of the National Press Club on Monday and staged a sit-in programme in front of party's Naya Paltan central office on Tuesday protesting against the jailing of Khaleda Zia.

(Justnews/ys/1110)