Dhaka, Nov 14 (Just News): The BNP claims that activist of ruling Awami League's student front were behind the attack on police in front its headquarters at the capital's Naya Paltan.
"Helmeted Chattra League activists vandalised police vehicles and set fire on those," Secretary General Mirza Fakhrul Islam Alamgir told a media call at the party chief's Gulshan offices on Wednesday.
"There's no reason for BNP activists to wear helmets. They have been collecting nomination form amid festivity, which has been entirely peaceful," he said before adding, "It was premeditated; police have been deployed in front of our party offices across the country."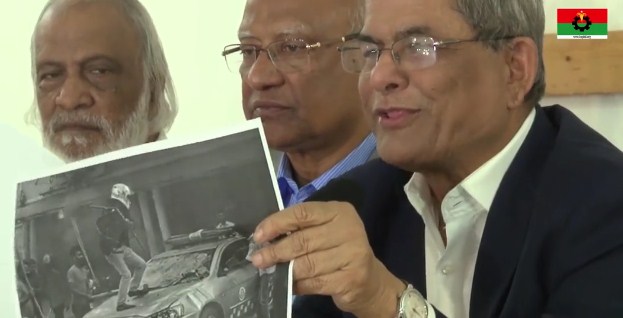 As many 70 BNP leaders and activists were detained by police as soon as they emerged from the Naya Paltan offices late on Wednesday, said the senior BNP leader. "We started our pre-election activities peacefully. However, if we cannot continue, we may choose to withdraw."
Former Bogura MP Helaluddin Talukder Lalu, former Gaibandha BNP president Anisuzzaman and Khulna BNP General Secretary Amir Ezaz Khan were among those held from Naya Paltan, he added.
Demanding immediate release of the detained BNP leaders and activist, Alamgir warned "We will have to rethink our decision to take part in polls."
(Justnews/ys/0100hr)