M Mushfiqul Fazal from White House, Mar 6 (Just News): The United States and Sweden celebrating 200 years of diplomatic relations this year. President Trump told about the relationship "Sweden is one of our oldest and closest partners, and was among the first European nations to offer the United States an unsolicited treaty of friendship-a treaty signed, believe it or not, in 1783."
He came up with this remarks along side with the visiting Swedish Prime Minister Stefan Löfven in a joint press conference at the East Room of the White House on Tuesday afternoon.
Prime Minister Löfven reaffirms the strength of the two Nations having said that, "History has shown that our two nations share fundamental values and interests, such as democracy and human rights. We also share a strong partnership that continues to evolve. Today, we have discussed how to further strengthen our country's prosperity and security."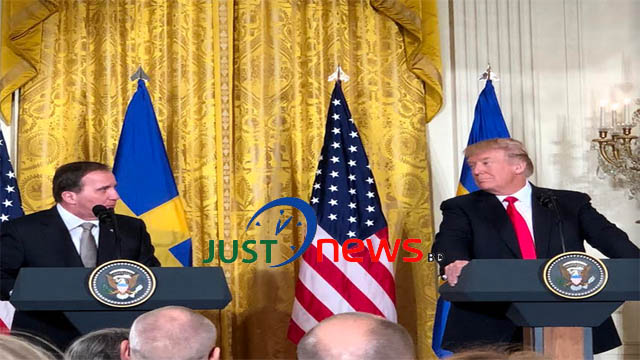 After the opening remarks of the both leaders the joint press conference was full of on EU new tariff, so called West Wing 'Chaos', North Korea and others issues.
Swedish Prime Minister expressed his position on new tariffs on steel and aluminum during the press conference- "Swedish prosperity is based on corporation competitiveness and free trade and I'm convinced that increased tariffs will hurt us all in the long run," Löfven said. "As a Swede, I of course support the efforts of the European Union to achieve trade with fewer obstacles and as few as possible."
Asked about the new tariff, President Trump said, "the United States has been taken advantage of by other countries, both friendly and not so friendly, for many, many decades. And we have a trade deficit of $800 billion a year, and that's not going to happen with me. We have been mistreated by many, sometimes fairly, but there are, really, very few instances where that's taken place."
President Trump said, I'm here to protect. And one of the reasons I was elected is I'm protecting our workers, I'm protecting our companies. And I'm not going to let that happen.So we're doing tariffs on steel. We cannot lose our steel industry. It's a fraction of what it once was. And we can't lose our aluminum industry."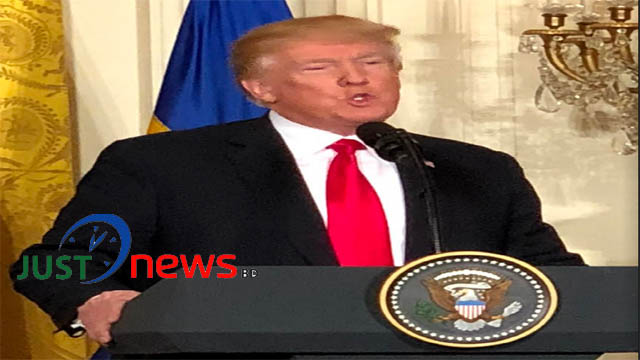 Replying to a question on West Wing 'Chaos' President Trump asserted that he likes 'conflict'.

He said, "It's got tremendous energy. It's tough. I like conflict. I like having two people with different points of view, and I certainly have that. And then I make a decision. But I like watching it, I like seeing it, and I think it's the best way to go. I like different points of view."
Trump also expressed optimism about resolving tensions with North Korea, saying he believes the country is 'sincere'.
"but I think they're sincere also because the sanctions and what we're doing with respect to North Korea, including, you know, the great help that we've been given from China. And they can do more, but I think they've done more than, certainly, they've ever done for our country before" he added.
President Trump said, "But the sanctions have been very, very strong and very biting. And we don't want that to happen. So I really believe they are sincere. I hope they're sincere. We're going to soon find out."
(Justnews/jr/ys/2320)