Special Correspondent from Washington, Dec 4 (Just News): An authoritarian government is now ruling Bangladesh after snatching the democratic rights and human rights. Rule of law, freedom of expression and good governance are totally collapsed here. A free, fair and credible election is impossible under this authoritarian government.

Panel Speakers made this remarks in a seminar held at the Elliott School of International Affairs in the George Washington University on Saturday afternoon.

America Bangladesh Council for Democracy (ABCD), a District of Colombia based rights think tank organized the seminar on 'Imperatives of Free and Fair Election in Bangladesh; On the Face of All-Encompassing Disbelieve, Mistrust, and Accountability Questioning.'

US Congressman Donald S Beyer was present as the chief guest at the inaugural session of the seminar.

The seminar moderated by journalist and human rights activist Rieta Rahman where Virginia House of Delegates member Mark D Sickles spoke as a special guest.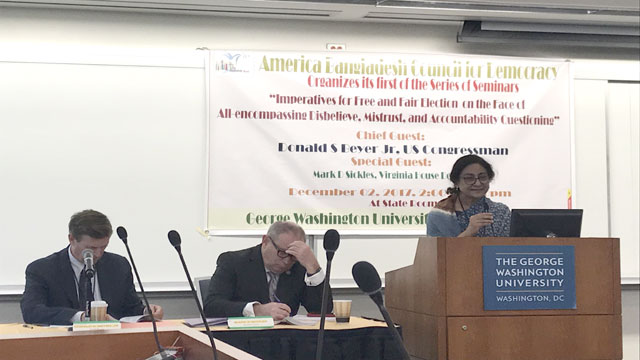 Rieta presented the keynote paper in the seminar.

Dr. Taj Hashmi, professor of Austin P State University presented a paper titled 'perceived risk, trust and democracy: is declining trust within society fatal to democracy,' and professor Dr. Syed Ifthekar Ahmed of the American Public University speaks on Genesis of Disbelieve and Mistrust in the National Election.

Assistant professor of Princeton University Dr. Faisal Ahmed, professor of Morgan State University of Maryland Dr. Ashraf Ahmed, retired officer of US Naval Academy Dr. Quamrul Islam, JustnewsBD Editor and White House correspondent M Mushfiqul Fazal Ansarey , CEO of Muslim Community TV journalist Qazi Shamsul Haque, former chief engineer of DC local government Shadat Suhrawardi and executive director of Asian Solidarity Foundation Imran Ansary , among others, took part at the seminar as panelists.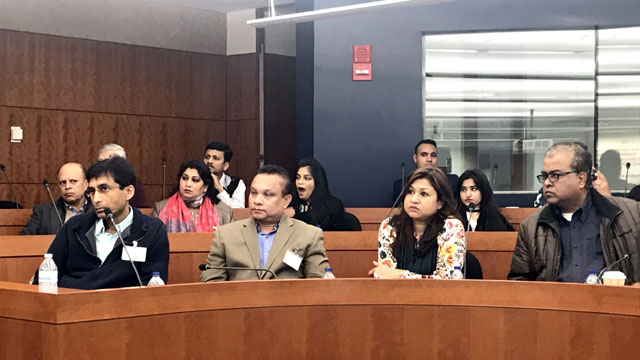 In the welcome speech Congressman Donald S Beyer said, I have heard democracy, election and human rights are facing challenges in Bangladesh. Many people disappointed on this situation. Effects of climate change appeared as another crisis among the other challenges.

He said the sea level is rising due to the effect of climate change, and there a clear impact of it in Bangladesh. Thousands will be homeless for this reason said the former diplomat, adding that, he is trying to engage the United States in this issue.

Donald S Beyer said the process of practicing democracy and upholding human rights for Bangladesh which begin in Washington DC should be kept up.

The United State is also going its moving forward through a political division added the influential lawmaker.

Stressing on the freedom of press, former Lieutenant Governor of Virginia Beyer said freedom of press is the main elements for a true democracy.


Mark D Sickles said the whole world struggling to establish the democracy. Though there is strong basement of democracy in the US but struggle is also continuing here.

Rieta Rahman in her note said the process of snatching the voting rights in Bangladesh by the ruling party is a rare. The human right situation is worsening day by day as forced disappearances and killings now turned as daily events. She focused on the weak points of the electoral process of Bangladesh in her key note.

Dr. Taj said the nation is made divided under a well-planned way. Thousands of BNP leader and activists took part in independence war directly, also lead the war as well but the ruling party leveled BNP as Pakistan friendly. The government wants to remove political Opponent politics forever, he added.

Dr. Ifthekar said there is no example of a fair election under a political government in Bangladesh. The reason of this failure should be marked. Mutual mistrust among the parties put the existence of state into a stake, he added.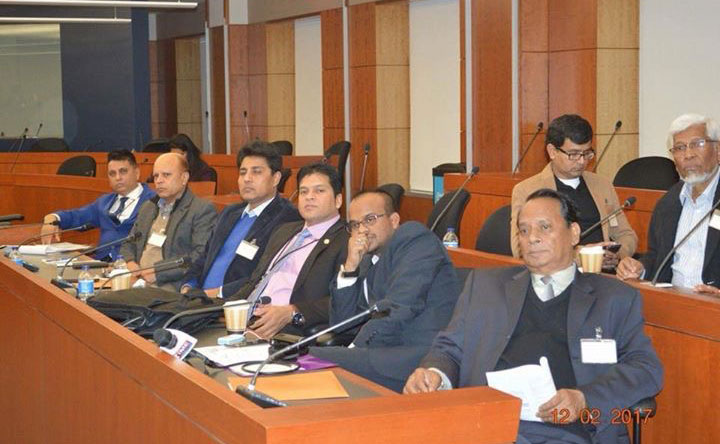 Journalist Mushfiqul said the one sided polls of 2014 was boycotted not only by BNP but also the whole world. The development partners of Bangladesh including the United Nations, European Union, the United States and United Kingdom sent the message of their disappointments by halting the observatory team operation during the one sided polls.

The government is continuing the practice of killings and disappearances to grab the power through an unprecedented way, he said, adding that, thousands of false case filed against the BNP leaders-activists including the former prime minister.

He said Khaleda Zia is being harassed in every working day by the court making her appear before it. Law imposed to ban the broadcast and publicity of popular leader Tarique Rahman's speech. Holding fair and neutral polls under this fascist government is unimaginable even, Mushfiqul added.

Voice of America journalist Sarkar Kabir Uddin, Fakir Selim and Shahadath Hussain Sabuj, ABCD's Dr. Zia Haider, Dr. Tamina Chowdhury, Dr. Ali Ahmed, Dr.Shahnaj Rahman, Mathew, general secretary of New York Bangla Press Club Shibli Chowdhury Kayes, Community personality AJ Hussein, Ali Imam, Shamsuddin Mahmud, Tuhin Islam, Jahid Khan and Badal Siddik, among others, were present at the seminar.

(Just News/ys/2330hr)