Special Correspondent from London, July 12 (Just News): The United States President Donald Trump arrived in the United Kingdom on a four-day visit on Thursday.
The US President has landed at Stansted Airport at 1.50 pm.
President Trump and First Lady Melania was greeted by Liam Fox, the International Trade Secretary and US ambassador to London Woody Johnson.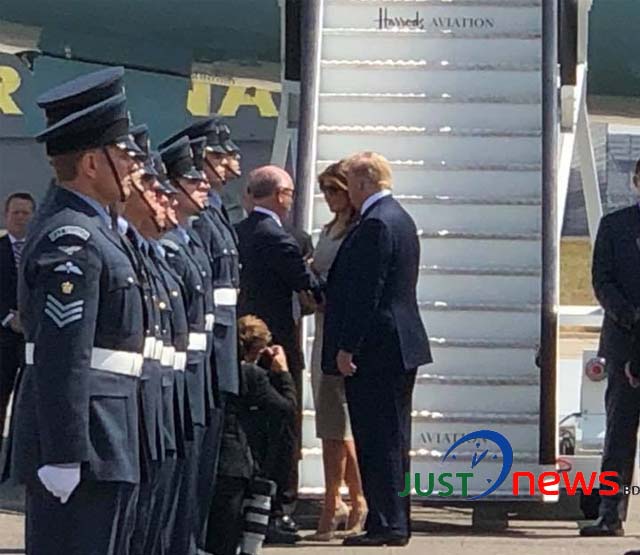 Trump is the 12th sitting US president to make such a trip and will spend time with the Queen and Prime Minister before flying to Scotland to spend the weekend at his golf resort. It is his first visit to Britain since winning the 2016 presidential election.
Thousands are expected to protest against the president in London on Thursday and Friday.
Donald Trump has arrived at US ambassador Woody Johnson's residence in Regent's Park in central London. He is scheduled to spend several hours here before travelling to Blenheim Palace in Oxfordshire.
They'll travel to Blenheim Palace near Woodstock, Oxfordshire, later this afternoon where Prime Minister Theresa May is hosting a black tie dinner in the Trumps' honour.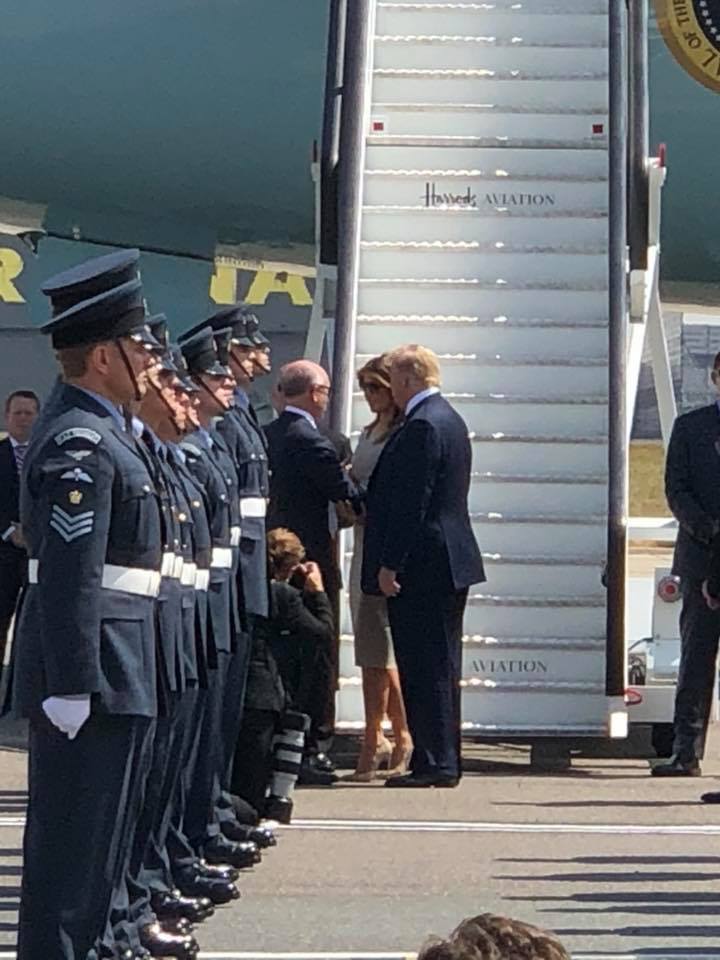 The Trumps return to London tonight and are staying at Winfield House, the official residence of the US ambassador.
Tomorrow, President Trump and Mrs May will watch a UK military exercise together before travelling to Chequers for bilateral talks. From there, they go to Windsor to meet the Queen.
For the final leg of their trip, the US first couple fly to Scotland to spend the weekend at the Trump Turnberry golf resort.
The president's time in Scotland is not counted as part of the working visit.
The US Embassy in London has warned Americans currently in the UK to "keep a low profile" and "exercise caution" due to the large-scale protests planned over Mr Trump's visit.
A small group of protesters held placards and made noise outside the US ambassador's residence in Regent's Park following Mr Trump's arrival.
Mayor of London Sadiq Khan has insisted the protest planned in London tomorrow is not "anti-American".
(Jsutnews/ys/2200hr)