A group of students, who have been staging protest against illegal enrollment of former and incumbent Chhatra League leaders at Dhaka University, were attacked on campus.
They were attacked around 1pm on Wednesday.
The students were staging the protest under the banner "DU against Corruption" demanding resignation of university vice-chancellor and the dean of the Business Faculty for allegedly giving preferential treatment to Chhatra League leaders, who were admitted to the masters of tax management (MTM) course under the banking and insurance department.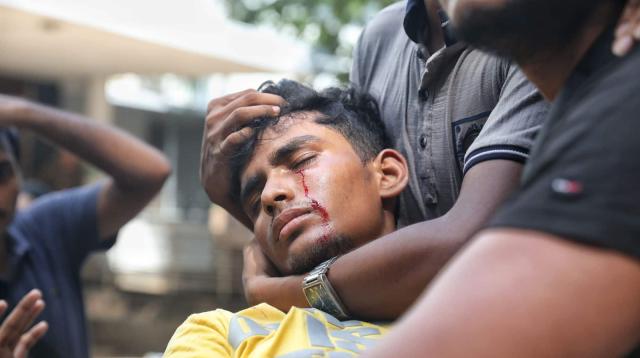 Asif Mahmud, a second year student of Linguistics department and also an activist of quota reformation platform Bangladesh General Students' Rights Protection Council, was injured during the attack.
He was taken to Dhaka Medical College Hospital (DMCH) with injuries on his left eye.
Shrobona Shafique Dipti, a fellow activist under the same platform, accused Chhatra League of attacking them.
She said: "Chhatra League activists, under the banner of general students, carried out the attack during our pre scheduled protest program."
After scrutinizing the video, it was found out that former executive member of Chhatra League central committee Mahfuzur Rahman Imon and Sabbir Hossain Shovon, member of Masterda Surja Sen hall unit Chhatra League, were involved in the attack.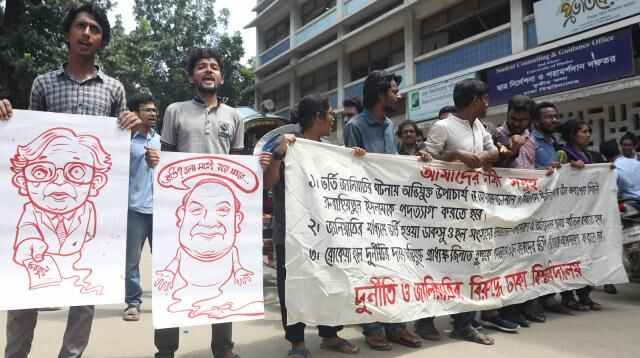 Both of them are follower of Dhaka University's unit Chhatra League President Sonjit Chandra Das.
Asif Mahmud, a second year student of Dhaka University was injured during the clash |Dhaka Tribune
While contacted over the phone, Sonjit denied the allegations and claimed that Chhatra League men did not attack any protesters.
He said: "I have sent Mahafuzur Rahman Imon to observe the situation."
After the attack, the protestors went to the proctor's office to notify him about the attack.
They also brought out a procession and paraded towards Business Faculty around 1:40pm as they were unable to speak to the proctor.
Later, the protestors again gathered in front of the office of Business Faculty dean, demanding exemplary punishment of the attackers.
Left-leaning student wings and Dhaka University Central Students' Union (Ducsu) Vice President (VP) Nurul Haque Nur expressed solidarity with the protesting students.
After joining the protest, Nur said: "The ruling party's student body carried out the attack on general students as they made some logical demands."
He demanded exemplary punishment of the attackers.
Several Dhaka University (DU) students have been protesting against the illegal enrolment of 34 former and incumbent Chhatra League leaders into a specific department of the Business Faculty.
According to media reports, former and current leaders of the ruling party's student front enrolled in the MTM course to continue their studentship after announcement of the Ducsu and hall union polls schedule on February 11 this year. However, the admission test for the course was held on November 30, 2018.