UK, Correspondent
A policy is now under consideration to introduce 'Human Rights Sanctions' against the human rights violators, said British minister for HS2Andrew Stephenson.
Andrew said, "A policy is under active consideration to introducing legislation on 'Human rights Sanctions' in the next legislative session to have a system of addressing human rights violations issues. This sanction will target individual actors and enablers of violations in government or outside of it who are connected to formal, informal structures of human rights violations."
The Minister said this while addressing a seminar on the rise of extreme nationalism in South Asia and violations of human rights at Committee Room 12 of the House of Commons on 10 March.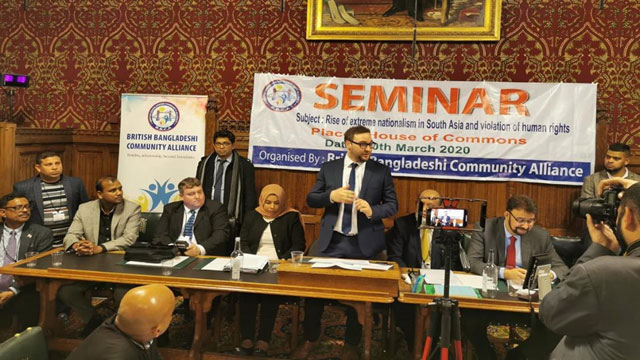 British Bangladeshi Community Alliance (BBCA) organised the seminar with Christian Wakeford MP in the chair.
BBCA president Barrister Afzal Syed Ali, Cardiff University associate professor Imtiaz Khan, Lord Qurban, Tehrik-e-Kashmir UK president Fahim Kyani and Sher-e-Bangla Fazlul Haq's grandson Syed Mamnun Morshed and Shamsul Alam Liton spoke at the seminar.
BBCA Patron, also former Burnley Borough councillor, Mozaquir Ali conducted the programme where BBCA secretary Foyzun Nur gave the welcome speech.
Andrew in his speech said it would be a tremendous achievement if these could be done instead of sanctioning states and governments. British Bangladeshi Community Alliance has been promoting such legislation.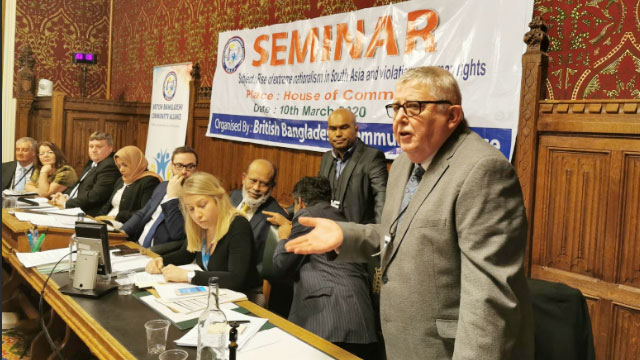 Barrister Afzal said the incidents of human rights violations do not happen suddenly. During times of the rise of extreme nationalism, the state structure is abused for this purpose and the most common example is the abuse of the judiciary for these purposes.
Dr Imtiaz in his speech showed how social media help to make the aspects of rights violations acceptable subject of dissuasions in societal space.
Lord Qurban in his speech said he went to Burma some 25 years ago and saw that anti-Muslim incitement and racial tensions were already socially acceptable then, and no one paid any attention to these.
The consequence of that indifference is the near-perfect ethnic cleansing and genocide against the Rohingya people, he added.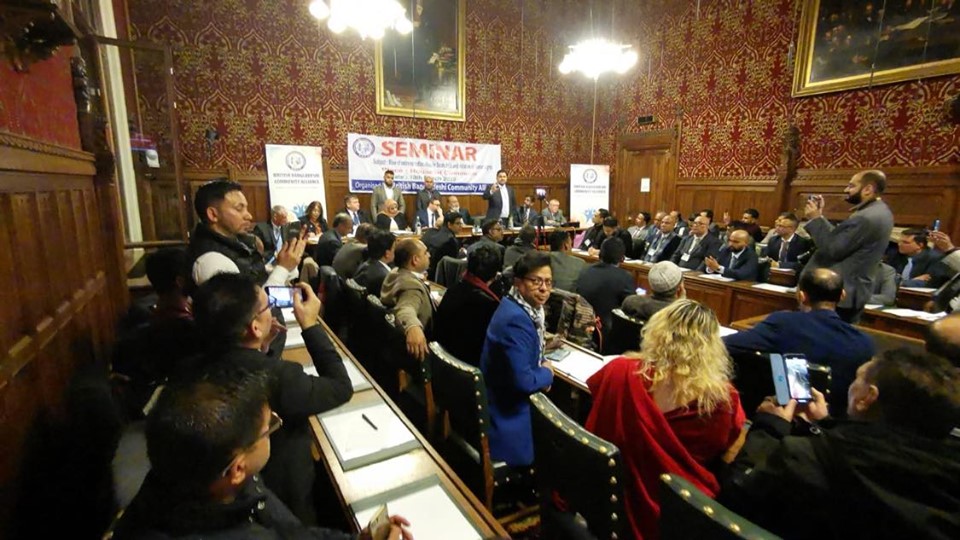 Tehrik-e-Kashmir UK president Fahim Kyani said, " The Indian siege against Kashmir is only comparable to its medieval use and purpose to starve the population to submit to Indian rule. There are around 15,000 Kashmiri youths in Indian prisons where their parents, families do not know where they are held, state of their health or simply whether they are dead or alive."
Syed Mamnun discussed the RSS political theory and mentioned Indian Prime Minister Narendra Modi is a life member of RSS. "Modi wants India as a Muslim free land with a clear genocidal mental structure. The present Citizenship Act in India is the product of that desire."
Shamsul Alam presented an analysis of risks faced by broadcast journalists and civil rights activists and the organised terror they faced in line of employment.
Shadow minister Afzal Khan, Shadow minister Kate Holland, Sara Britcliffe, Apsana Begum MP; former MP Grahame Jones, county councillor Peter Britcliffe, conservative group leader councillor Andrew Newhouse and BBCA treasurer Abidul Islam Arju, among others, joined the seminar.