Singapore, Jun 12 (Just News): Donald Trump and Kim Jong-un have become the first sitting US president and North Korean leader to meet, an unprecedented development after a year of exchanging threats.
The pair shook hands at a luxury hotel in Singapore's Sentosa island after months of diplomatic twists and turns.
They are now set to discuss defusing tensions and nuclear disarmament.
Analysts are split on what it will achieve. Some see it as propaganda win for Mr Kim, others a path to peace.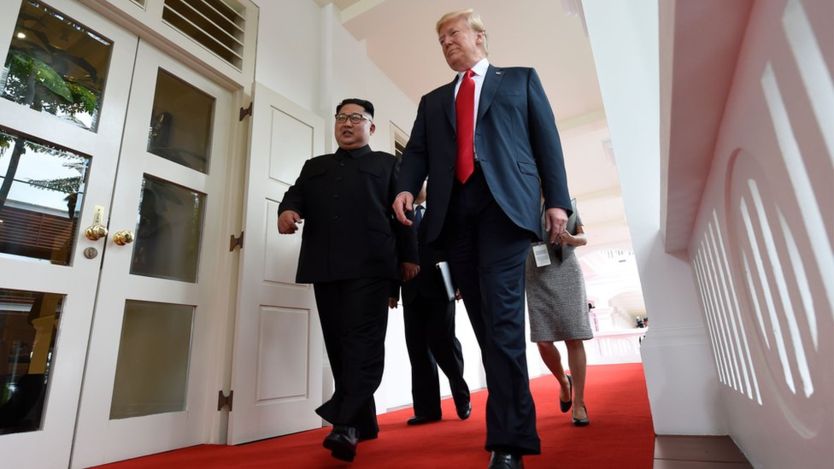 The two men walked towards each other and firmly gripped each other's hands in front of US and North Korean flags.
In brief initial comments in front of the press, the US president predicted a "terrific relationship" with Mr Kim.
"I feel really great. We're going to have a great discussion and will be tremendously successful," the US president said.
Sitting alongside each other, the pair appeared relaxed, against the odds. The convivial display marks a dramatic breakthrough in relations between the pair, who less than a year ago, exchanged fiery insults and threats of war.
"It was not easy to get here....There were obstacles but we overcame them to be here," Mr Kim said.
The leaders have finished a one-to-one meeting, with translators, which ran for between 40 and 50 minutes. They were then joined by advisors for a working lunch.
The talks - unimaginable just a few months ago - will focus on North Korea's controversial nuclear programme.
What does this mean?
Mr Trump will credit any successful outcome of talks to his "maximum pressure" campaign on North Korea, that tightened economic sanctions and threatened military action. Many believe that no matter what is achieved this will be the narrative.
For Mr Kim, securing a stage with the US leader is seen as a victory in itself, something which neither his father or grandfather could achieve.
Such a meeting has long been seen as a prize in the eyes of North Korea for the legitimacy it would confer on its leader.
For decades, North Korea has been a pariah state, and now its latest hereditary leader is being treated as a world statesman.
Last year, it would have been a rare sight to see a North Korean flag flying anywhere in Asia.
Now, Mr Kim - who runs a totalitarian regime with extreme censorship and forced-labour camps - is meeting and greeting dignitaries.-BBC

(Justnews/ys/0820hr)