Singapore, Jun 12 (Just News): President Donald Trump and North Korean leader Kim Jong Un shook hands on Tuesday morning — a historic first meeting between leaders of the two nations — as they opened a one-day summit that U.S. officials hope ultimately will result in Kim giving up his nuclear program.
As the two men approached each other on a colonnade at the Capella Hotel on Sentosa Island here, with American and North Korean flags interspersed behind them, reporters could hear Kim or his interpreter say, "Nice to meet you, Mr. President."
Then, they posed for photographs, stern-faced, before making their way to a meeting room where they spoke briefly to the media.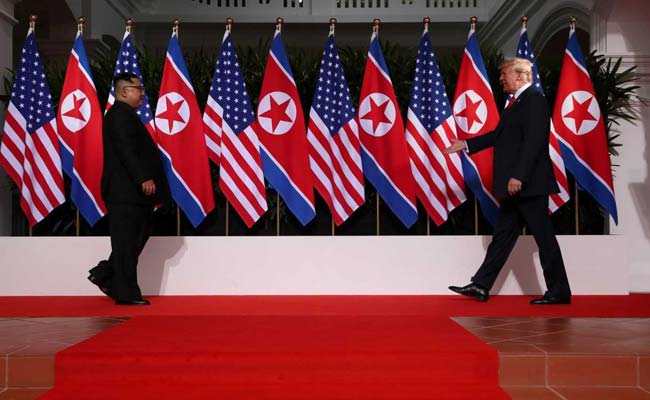 "We will have a terrific relationship," Trump said. "I have no doubt."
Kim noted the nascent relationship already has survived serious obstacles — this meeting was planned, canceled and put back on the calendar — in getting to the point where the leaders could talk with each other in person.
"It was not easy to get here," but the two sides "overcame" obstacles, the North Korean leader said through a translator.
"That's true," Trump replied.
That first meeting — one of several planned for the day — lasted about 45 minutes. Trump said afterward that their relationship was "very, very good" and "excellent."
That could be meaningful because has placed his emphasis on the personal dynamics of the relationship he forges with Kim, whom American officials say will have to give up his nuclear arsenal and his ability to develop new weapons in order to get relief from crippling U.S. economic sanctions and assurances that the U.S. will not take military action against him.
"It's a great honor to be with you, and I know we'll have tremendous success together," Trump said at the start of a second meeting, which featured the two leaders and their aides. "We'll solve the big problem, the big dilemma, that until this point has been unable to be solved."
Kim did not respond to questions from the media about whether he would give up his nuclear program.
The summit got its official kickoff Tuesday after staff-level talks in recent days "moved more quickly than expected," the White House said.
"The fact that I am having a meeting is a major loss for the U.S., say the haters & losers," Trump also tweeted shortly before the meeting. "We have our hostages, testing, research and all missle (sic) launches have stoped (sic), and these pundits, who have called me wrong from the beginning, have nothing else they can say! We will be fine!"-NBC News

(Justnews/ys/0920hr)