Washington, Jun 24 (Just News): The father of the Honduran girl who became the face of the family separation crisis has revealed that he still has not been in touch with his wife or daughter but was happy to learn they are safe.
Denis Javier Varela Hernandez, 32, said that he had not heard from his wife Sandra, 32, who was with his two-year-old daughter Yanela Denise, for nearly three weeks until he saw the image of them being apprehended in Texas.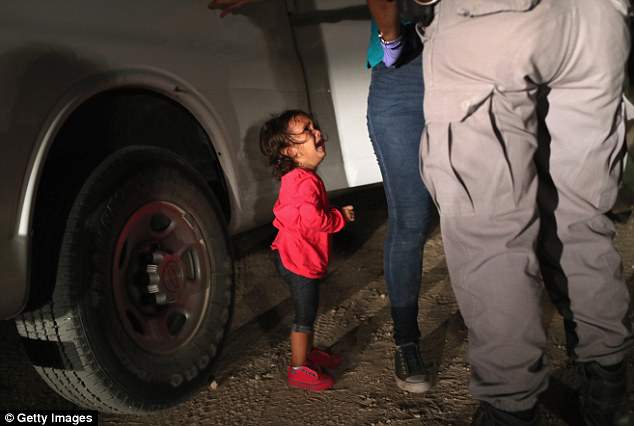 In an exclusive interview with DailyMail.com, Hernandez, who lives in Puerto Cortes, Honduras, says that he was told on Wednesday by a Honduran official in the US that his wife and child are being detained at a family residential center in Texas but are together and are doing 'fine.'
'You can imagine how I felt when I saw that photo of my daughter. It broke my heart. It's difficult as a father to see that, but I know now that they are not in danger. They are safer now than when they were making that journey to the border,' he said.
Denis said his wife and daughter were never separated by border control agents and remain together.
A spokeswoman for Immigration and Customs Enforcement (ICE) has told DailyMail.com that Sandra had been previously been deported from the US in 2013.
The spokeswoman said that she was 'encountered by immigration officials in Hebbronville, Texas' in and sent back to Honduras 15 days later under 'expedited removal.'
Sandra current immigration proceedings are 'ongoing' and she is being housed at a family detention center in Texas.
Denis said that his wife had previously mentioned her wish to go to the United States for a 'better future' but did not tell him nor any of their family members that she was planning to make the trek.
'I didn't support it. I asked her, why? Why would she want to put our little girl through that? But it was her decision at the end of the day.'
He said that Sandra had always wanted to experience 'the American dream' and hoped to find a good job in the States.
Denis, who works as a captain at a port on the coast of Puerto Cortes, explained that things back home were fine but not great, and that his wife was seeking political asylum.
He said that Sandra set out on the 1,800-mile journey with the baby girl on June 3, at 6am, and he has not heard from her since.
'I never got the chance to say goodbye to my daughter and now all I can do is wait', he said, adding that he hopes they are either granted political asylum or are sent back home.-Daily Mail
(Justnews/ys/2213hr)