Gwen Flanders/NPC
What a neighl -- oops, make that "nail"-- biter!
The National Press Club's annual Press vs. Politicians Spelling Bee, back Wednesday after a pandemic-induced break, was down to the last of the journalists team, Amy B. Wang, and the remaining politician, Rep. Chris Pappas.
Wang, a national political reporter at The Washington Post, was making her first appearance in the bee. Pappas, a New Hampshire Democrat, won the previous contest in 2019.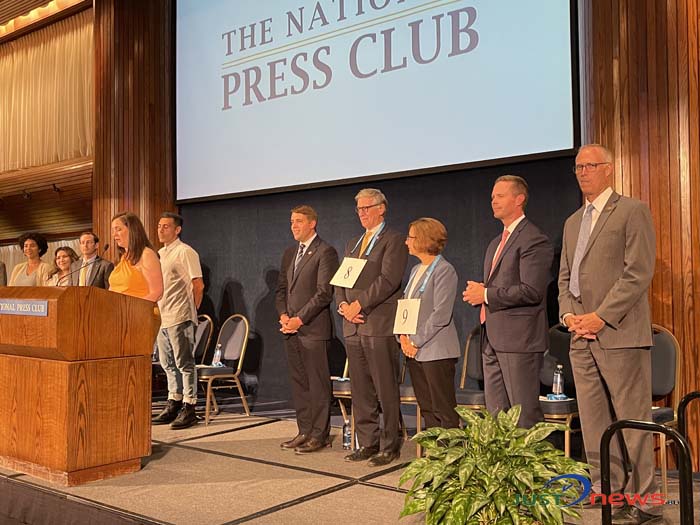 Wang took the trophy by correctly spelling -- cover the kids' eyes -- "fartlek." Not what it sounds like, it means a training regimen in which a runner alternates sprinting and jogging.
The trophy will probably go in her home office, Wang said, although her 2-1/2-year-old daughter, Calliope, who cut into her mom's debate prep time, may consider it her toy.
Pappas was knocked out by "whangdoodle," which means an imaginary creature or "one that whangs." Really, that's in Merriam Webster.
The first National Press Club Spelling Bee was in 1913. The second was 100 years later. In the six bees before the pandemic, the press team won three and so did the politicians. Wednesday the tie-breaker went to the journalists.
Contestants on both sides had cheering sections. Vaguely naughty-sounding words -- "heinie," "scuzzball," "shittah" and the crowning "fartlek" among them -- drew hoots and laughs from the crowd. There was a bar.
The press team, besides Wang, was filled out by Ramtin Arablouei, co-host of National Public Radio's Throughline podcast; Eric Geller, cybersecurity reporter at POLITICO; Farnoush Amiri, congressional reporter at The Associated Press; Martine Powers, senior host of The Washington Post's Post Reports podcast; and John Donnelly, senior writer at CQ Roll Call.
The politicians team was Pappas; Rep. Don Beyer (D-VA), Rep. Suzanne Bonamici (D-OR), Rep. Rodney Davis (R-IL) and Rep. Jared Huffman (D-CA).
The star power at the event, though, was brought by the reigning champion of the Scripps National Spelling Bee, 14-year-old Harini Logan, and the 2021 champion, 15-year-old Zaila Avant-garde. They served as judges.-The National Press Club