At least 15 leaders and activists of Jatiyatabadi Chhatra Dal were injured as leaders and activists of Bangladesh Chhatra League attacked them on Dhaka University campus on Tuesday afternoon.
The injured ones were rushed to private hospitals for treatment, DU unit of JCD president Khorshed Alam Sohel said.
Witnesses said that the BCL leaders and activists attacked the JCD leaders and activists in front of Sir AF Rahman Hall on Dhaka University campus at about 4:30pm.
Khorshed Alam Sohel alleged that Sir AF Rahman Hall unit of Chhatra League president Riazul Islam and general secretary Munem Shahriar Moon led the attack on them.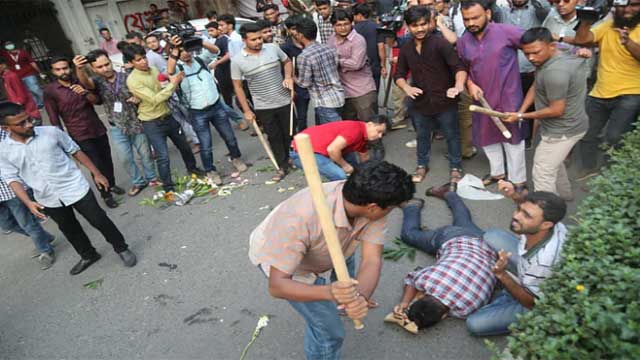 'The BCL leaders and activists, armed with iron rods and stamps, suddenly swooped on us. They mercilessly beat all of us who were there. Over 15 of our leaders and activists were injured. Five of them are in serious condition,' said the JCD DU unit president.
JCD leaders said that the JCD leaders and activists, as per their pre-scheduled programme, were coming to meet the Dhaka University vice-chancellor Professor Md Akhtaruzzaman following the formation of the newly formed JCD committee of DU unit.
The vice-chancellor also gave them time to meet in the afternoon, they said.
At about 4:30pm, when around 20-25 Chhatra Dal leaders and activists entered the campus and reached in front of the Mukti Ganantra Toran, BCL leaders and activists from Sir AF Rahman Hall attacked the JCD leaders and activists, the leaders alleged.
Neither Riazul Islam not Munem Shahriar Moon could be reached for comments after several attempts.