Dhaka, June 30 (Just News): Members of quota reform movement could not hold their scheduled press briefing today as they were attacked allegedly by the members of Bangladesh Chhatra League (BCL) on the Dhaka University campus.
Four leaders of quota reform movement were injured in the attack in front of DU Central Library Building around 10:45am, our DU correspondent reports quoting the quota reformists.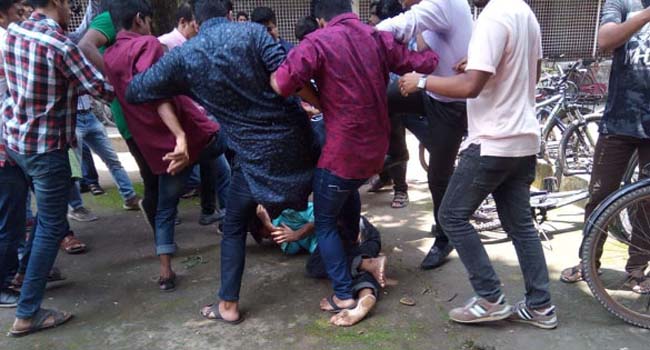 The injured are: Hasan Al Mamun, convener of Bangladesh Sadharan Chhatra Odhikar Sangrakkhan Parishad, Nurul Haque Nur, Faruk Hasan and Arosh, joint conveners of the platform.
Of the injured, Nurul and Arosh were taken at Dhaka Medical College Hospital (DMCH), said platform convener Hasan Al Mamun.
The attack took place when the quota reform leaders, including joint conveners Faruk Hasan and Nurul Haque Nur, were taking preparation to hold the prescheduled press conference in front of the DU Central Library building to brief their next course of action as the government failed to issue a gazette notification by their deadline, said Hasan.
At that time, a group of 200-250 BCL men beat up the quota reform leaders, leaving four of them injured, said Hasan.
The attackers drove out the quota reform demonstrators form the area and took position at the library premises, he said.
DU Haji Muhammad Mohsin Hall BCL general secretary Mehedi Hasan Sani, its Bangabandhu Sheikh Mujibur Rahman Hall general secretary Al Amin Rahman and AF Rahman Hall general secretary Mahmudul Hasan Tusaar, BCL central committee vice presidents Mehedi Hasan Rony and Imtiaz Bulbul led the attack, alleged the platform leader.
The platform had started an indefinite boycott of classes and examinations at all universities and colleges on May 14 after the government failed to issue a gazette notification on the prime minister's April 11 announcement of quota abolition in government jobs. It gave an ultimatum for publication of the notification by May 13.
On May 21, the quota reform demonstrators postponed their decision of boycotting examinations considering Ramadan and the prospect of "session jams" the strike may cause.
In April, students of public and private universities across the country took to the streets demanding reform in the quota system. The protesters blocked key points in the capital and roads and highways elsewhere.
At present, 56 per cent of government jobs are reserved for candidates from various quotas, while the remaining 44 per cent draw applications from the merit list.
Of the 56 per cent, 30 per cent are kept for freedom fighters' children and grandchildren, 10 per cent for women, 10 per cent for people of districts lagging behind, five percent for members of indigenous communities, and one percent for physically-challenged people.
In the wake of the protests, Prime Minister Sheikh Hasina declared the abolition of quotas on April 11, during a parliamentary session.