Dhaka, July 31 (Just News): People suffered for the third consecutive day on Tuesday as students from different schools and colleges blocked key intersections in the capital Dhaka, protesting at the killing of two college students in a road crash on Airport Road and demanding resignation of the shipping minister for his comments on the accident.
The students blocked roads in different areas in two spells -- first in the morning and then in the afternoon. Three buses were also torched during the demonstrations.
They blocked intersections in Farmgate, Mirpur, ECB Chattar, Kakrail, Shantinagar and Motijheel in the morning while in Uttara and Badda in the afternoon, bringing the vehicular movement to a grinding halt in those areas.
Tailbacks were also created on the roads of other areas as the spillover effect of the blockades, inflicting immense sufferings on the office-goers and other commuters.
Many people were seen moving on foot to reach their destinations.
Witnesses said students of Government Science College at Tejgaon put barricade on the road near Farmgate police box around 10:45am halting traffic. Law enforcers, however, cleared the road within half an hour.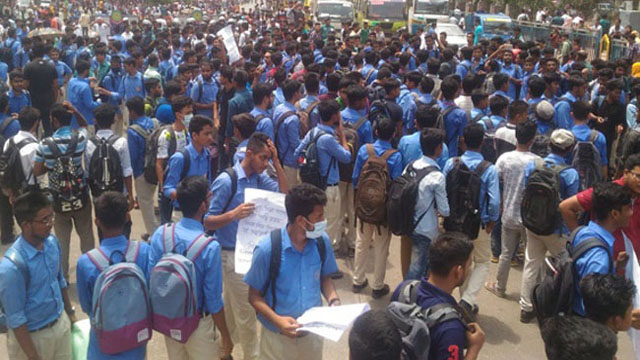 Students also blocked the road at ECB Chattar in the morning. Law enforcers chased the protesters and cleared the road, according to witnesses.
Students put barricades at Mirpur-1 intersection, halting vehicular movement for over an hour. Law enforcers then swung into action and cleared the road.
Meanwhile, students of Willes Little Flower School and College and Habibullah Bahar University College blocked Kakrail and Shantinagar intersections in the morning. After being dispersed, they again blocked the road at noon halting traffic.
Besides, students of Notre Dame College put barricades on the road in Shapla Chattar area.
Students of Dhaka Imperial College and East West University took to the streets in the afternoon and blocked the Kuril-Rampura road at Rampura Bridge, disrupting traffic on the busy road.
Meanwhile, a group of students vandalised a number of vehicles passing through the road in front of Scholastica School at Jasimuddin Road in the city's Uttara area around 3:42pm.
They later set two buses - one of 'Ena Paribahan' and the other of 'Bushra Paribahan'-- on fire, said Russell Shikder, duty officer at the Fire Service central control room.
On information, he said, firefighters rushed in and put out the fire.
Besides, another group of students torched a bus in front of City College around 1:35pm, Shikder said, adding that firefighters later extinguished the fire.
On Sunday, Diya Khanam Mim and Abdul Karim Rajib, students of the college section of Shaheed Ramiz Uddin School and College, were killed as a 'Jabal-e-Noor Paribahan' bus ploughed through some students in front of Kurmitola General Hospital on Airport Road.
Angered by the incident, students went on a rampage vandalising whatever buses they found before them.
They also blocked the Airport Road for five hours on Monday, creating tailbacks on many city roads.
(Justnews/ys/2330hr)