Dhaka, Aug 1 (Just News): Students have taken to the streets for the fourth day in a row, chanting slogans and demanding justice for the deaths of two of their fellows on Airport Road last Sunday.
Hundreds of students blocked different roads in Dhaka including Shahbagh, Airport Road, Science Lab intersection, Kakrail intersection, Mirpur 10 and Kazi Nazrul Islam Avenue.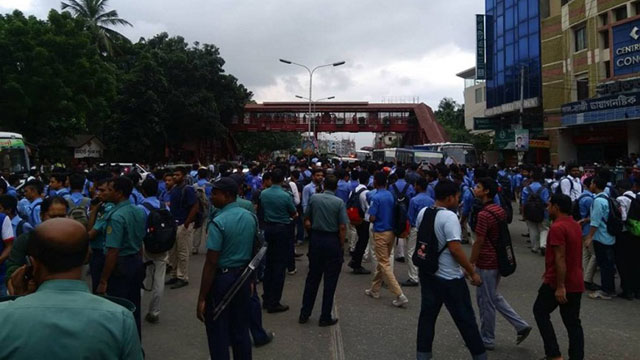 Science Lab: Around 2,000 students were heading towards Shahbagh. There is a possibility that they might block Shahbagh intersection, according to our staff reporter at 11:45am. Students of Dhaka City College, Ideal College, Dhaka College and others blockaded Science Lab intersection around 11:30am.
Mirpur 10: Around 500 students of various schools and colleges from the Mirpur area also brought out a procession at Mirpur 10 and rallied around the main roads carrying banners and placards.
Kazi Nazrul Islam Avenue: Vehicle movement from Farmgate to Karwan Bazar also remained suspended for around 20 minutes as hundreds of students blocked Dhaka's Kazi Nazrul Islam Avenue demanding safe road.
First, the protesting students took position on the busy VIP road near the police box in Farmgate around 10:00am.
Later, they went on marching towards Karwan Bazar chanting "We want justice".
Airport Road: Almost 1500 students blocked both sides of the Airport Road at 12:00 noon. Around two vehicles were also vandalised by the protesting students, reports our photojournalist stationed at the spot. Meanwhile, students of Shaheed Ramiz Uddin Cantonment College around 11:00am tried to block Airport Road demanding safe road and justice for their two peers killed in Sunday's road crash.
But the law enforcers foiled their attempt and ushered them into the buses crossing the area. Police pushed two to three students in a single bus so that they cannot reorganize the movement, reports our photographer from the spot.
Reports are trickling in of many other road blockades by the protesters since morning.
They want a safe road, student-friendly transport system and exemplary punishment of the bus drivers involved in the accident on the Airport Road on Wednesday.
They also demand resignation of the shipping minister, or at least an unconditional apology, for his remarks with a smiling face about the accident that left two students of Shaheed Ramiz Uddin Cantonment College dead and at least nine others wounded.
Yesterday, protesting the deaths of their fellows, students took to the streets at Farmgate, Science Laboratory intersection, Mirpur-1, Mirpur-10, Mirpur-13, Uttara, Motijheel, Rampura, Nabisco intersection, Sher-e-Bangla Nagar and Shyamoli in the morning amid huge presence of law enforcers.
Traffic system collapsed across the city due to the demonstrations, causing much trouble for office-goers and other commuters. Also, some transport operators did not run their vehicles, resulting in a shortage of transport.
(Justnews/ys/1330hr)