Dhaka, Aug 2 (Just News): Policemen and a group of Bangladesh Chhatra League and Jubo League allegedly attacked some students while they were staging demonstration demanding safety on roads in Dhaka's Mirpur area today.
A police team chased the students in Mirpur-13 around 3:00pm, joined by some unidentified people equipped with sticks.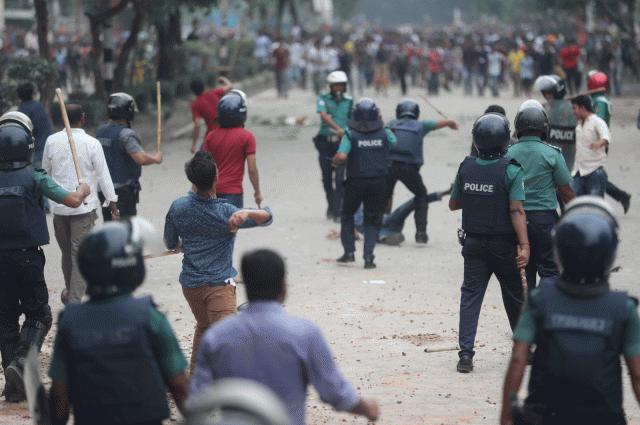 As the students blocked the road in Mirpur-13 and Mirpur-14 since this morning, policemen and local people attacked the students to disperse them and clear the road.
At that time, the agitating students also threw brick chips at the policemen and the unidentified attackers, forcing them to retaliate that triggered a clash between the two sides.
The policemen later charged baton on the students, forcing them to leave the area, they said.
However, no arrest was made and no case was filed in this connection, the police official added.
Besides, a group of Bangladesh Chhatra League and Jubo League also allegedly tried to foil the demonstration of agitating students in Mirpur area this afternoon when the students were staging demonstration and checking driving licence of vehicles plying in the area, witnesses said.
At one stage, a chase and counter-chase took place between the students and the ruling party men. Finally, the attackers left the place as the agitating students hurled brick chips at them, the witnesses added.
The agitating students finally gathered in Mirpur-14 area around 4:00pm and continued their demonstration.
Later, the law enforcers charged baton on the students to disperse them and cleared the road in Mirpur-13 and 14 around 6:45pm.
"When we gathered in Mirpur-14 around 4:00pm, some policemen and unidentified youths attacked on us and chased us," said a student of Shaheed Police Smrity College.
The student movement demanding safety on roads continued for the fifth consecutive day in the capital today.
On Sunday, Abdul Karim alias Rajib Uddin, 18, and Dia Khanam Mim, 17, students of class-XII and class-XI respectively at Shaheed Ramiz Uddin Cantonment College, were killed during a mad race between two buses on the Airport Road.
Immediately after the incident, students of the college went on a rampage, vandalising over 100 vehicles on the busy street in the capital.
From then on, the students of many schools and colleges in Dhaka and also in different parts of the country are protesting in demand of safe roads.
School and college students have been mainly leading the protests, demanding justice over the deaths of their fellows under one single slogan "We Want Justice".
(Justnews/ys/2230hr)