Dhaka, Jan 23 (Just News): At least 40 people including five journalists got injured as activists of Bangladesh Chhatra League, the ruling Awami League's student wing, attacked the demonstrators at the Dhaka University vice-chancellor's office to free him from confinement on Tuesday afternoon.
Of the injured, 10 people including two female students, are admitted to Dhaka Medical College and Hospital.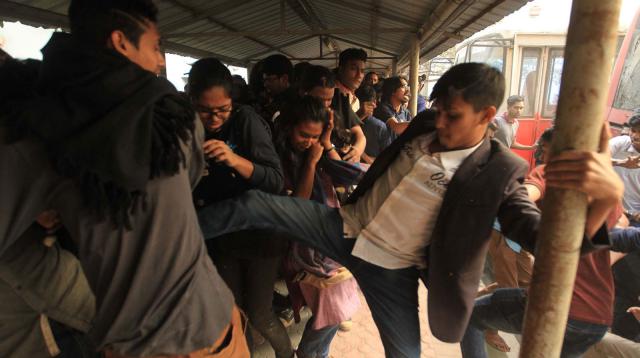 Dhaka University Journalist Association vice-president Mir Arshadul Haq is also among the injured and was undergoing treatment at the hospital.
Several hundred of Chhatra League activists led by its president Saifur Rahman Sohag and general secretary Zakir Hossain went on a mayhem on the campus around 3:30pm when they came to 'rescue' the vice-chancellor, Md Akhtaruzzaman, who was confined to his office by agitating students demanding to meet their four-point demands.
The Chhatra League activists assaulted the demonstrators including female students with iron rods and hockey sticks, witnesses said.
The female students are also molested by the Chhatra League men, they said.
A number of students and staff got stranded at the university administrative building during the attack of Chhatra League.
Earlier, the agitating students confined the vice-chancellor at his office as what they said the authorities were yet to respond to their four-point demands.
The demands include withdrawal of a case filed by the administration against students in connection with intruding into the proctor's office, actions against Chhatra League activists, who had reportedly assaulted students and molested female students on January 15, resignation of university proctor, and cancellation of the affiliation of seven colleges to the university.
Around 100 students took position in front of the vice-chancellor's office around 12:30pm to press home their demands.
The demonstrators broke three collapsible gates of the vice-chancellor's office and continued their demonstration till the report was filed at 1:50pm, the Dhaka University correspondent of New Age reports.
Earlier on the day, the students formed a chain at the altar of Aparajeya Bangla to realise their demands and later paraded the campus with a procession.
On Sunday, they also staged demonstration and announced to lay siege to the vice-chancellor's office on Tuesday if the authorities failed to respond to their demands.
Earlier on Thursday, the university administration lodged a case against 50 to 60 unidentified students who allegedly broke the collapsible gate of the proctor's office during a demonstration on Wednesday.
Protests broke out on Wednesday as the authorities failed to take action against the Chhatra League activists, who on January 15 assaulted a group of students observing a sit-in demonstration in front of the vice-chancellor's office, demanding cancellation of the affiliation of seven colleges to the university.
(Justnews/ys/2240hr)