M Mushfiqul Fazal from White House, Apr 3 (Just News): The US President Donald Trump asked the Latvian leader to chosen his own country's reporter rather than a "fake news" reporter from the United States.
During a joint press conference at the East Room of the White House with leaders from three Baltic states, President Donald Trump made the request.
"A Baltic reporter, ideally." Trump told Latvian President Raimonds Vējonis. "Mr. President, pick a reporter from the Baltics."
Vējonis smiled and paused, he was not ready for call anyone
Real news, not fake news," Trump said as Vējonis, Estonian President Kersti Kaljulaid and Lithuania's Dalia Grybauskaite looked on.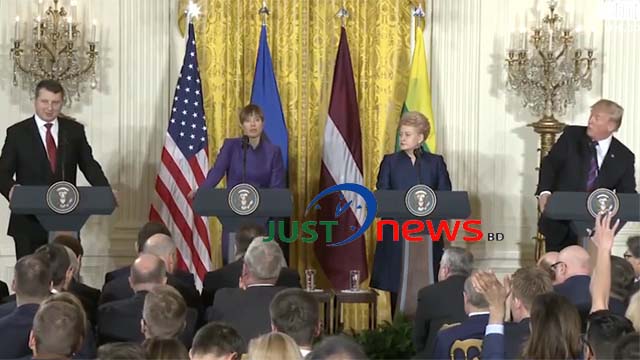 Visiting the three Baltic leaders, President Raimonds Vējonis of Latvia, President Dalia Grybauskaite of Lithuania, and President Kersti Kaljulaid of Estonia attended the joint press conference with the President Trump on Tuesday afternoon.
Russia issue was on the top as the three nations were once controlled by the former Soviet Union.
During the press conference President Trump made his first public comments about the 60 Russian diplomats that the United States expelled from the country last month.
"We did 60. There is nobody been tougher on Russia," President Trump said.
A reporter asked if Russian President Vladimir Putin is "a friend or a enemy , to which the President said "we'll find out."
"I'll let you know," Trump said. "There will be a time when I'll let you know. You're going to find out very quickly."
"I think I could have a very good relationship with Russia and with President Putin. And if I did that would be a great thing. And there is a lot a great possibility that that won't happen. Who knows." President Trump mentioned in his reply.
Trump added that he believes no American president has been tougher on Russia than himself.
(JustNews/jr/gs/1040hr.)