White House Correspondent, June 7 (Just News): US President Donald Trump on Thursday said planned U.S.-North Korea summit will not be just a photo op.
The president cme up with this remark at a joint news conference with Japanese Prime Minister Shinzo Abe, at the Rose Garden in White House.
About upcoming summit with North Korea the US President said, "Well, it's going to be much more than a photo op. I think it's a process; I've told you that many times before. I think it's not a one meeting deal. It will be wonderful if it were. You know, they've been doing this for a long time. There's been a lot of enemies out there. A lot of dislike, a lot of hatred between countries."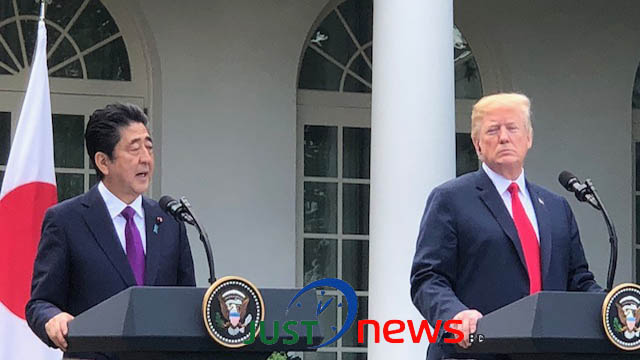 Trump said, "This will not be just a photo op. This will be -- at a minimum, we'll start with, perhaps, a good relationship. And that's something that's very important toward the ultimate making of a deal I'd love to say it could happen in one deal, and maybe it can. They have to denuke. If they don't denuclearize, that will not be acceptable. We cannot take sanctions off; the sanctions are extraordinarily powerful. We cannot -- and I could add a lot more, but I don't -- I've chosen not to do that at this time. But that may happen."
On Iran issue the US President said, "By the way, with Iran, we're adding tremendously powerful sanctions. They understand that very well. I think Iran already is not the same country, if you look -- I don't think they're looking so much to the Mediterranean like they were two months ago. So it's a big difference. It was, number one, nuclear, but also, out of it, you also get the side benefit that Iran is a different place. And we'll see what happens. And maybe, ultimately, something will happen with Iran."
Japan and the United States share a very long history, but I would like to underscore that we are at the best moment, in terms of the strength of bond between the two nations, said Abe.
About North Korea and US summit the Japanese Prime Minister said, "My sincere hope is that the upcoming planned U.S.-North Korea summit meeting will serve as an opportunity through which we will have greater peace and stability, and also this will be a dramatic and transformational moment in terms of the situation in the Northeast Asia."
"I would like to take this opportunity to make sure that we, too, have the utmost policy coordination as to our approach to the planned summit meeting that you will have with the North Korean leader in the very near future," he added.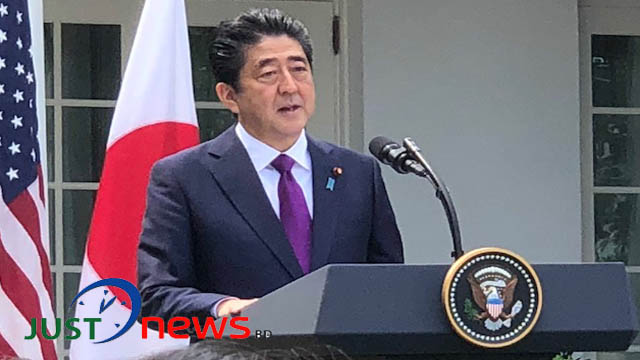 About Kim's letter Trump said, "Well, the letter was just a greeting. It was really very nice. Perhaps I can get approval to put it out. It was really a very warm letter, a very nice letter. I appreciated it very much. And nothing other than: We look forward to seeing you, and we look forward to the summit, and hopefully some wonderful things will work out."
"This is something that should have been solved by other Presidents, as I've said often before, long before this point. They waited until the last second. And they shouldn't have waited. This should have been solved by many others. I'm not just saying President Obama; I'm saying other Presidents. A long time ago, this could have been solved in a lot easier manner and a lot less dangerous manner. But it wasn't. So I'll solve it, and we'll get it done." The President added.
Trump said, "As far as the Prime Minister is concerned, we will agree and we have agreed that we're going to be helping -- if the deal is done, we're going to be helping North Korea. We're going to be working with China. We're going to be working with South Korea".
The President said, "President Xi of China has been terrific. The border has been certainly more closed than ever before. I'd like them to close it a little bit more, but it's been more closed than ever before. China has never worked with us this way. And, you know, I give him a lot of credit because, as you know, we're in a dispute as to the imbalance of trade. It's a massive imbalance in China's favor. It's been that way for many decades, and it should have also been handled by previous Presidents. But it wasn't, so we'll handle that too".
(Justnews/ys/0340hr)