Special Correspondent from Washington
President Trump's top economic advisor Larry Kudlow, denounced socialism, which has become popular among Democratic presidential candidates, calling the political ideology "a loser."
Speaking at National Press Club Headliners Luncheon on Tuesday in the Holeman Lounge, Kudlow said, "Look, I am an ex-Democrat," Kudlow said.
"Actually, I have worked for two presidents who were ex-Democrats, Ronald Reagan and Donald Trump," added Kudlow.
He said, "I will say this, socialism is a loser. I don't want us to forget the lessons of the past."
"They sap our morale, they reduce our freedom, they tend to turn into really tyrannical political situations."
The programme was conducted by the Club 112th President Alison Fitzgerald Kodjak.
Journalists Andrea Edney, M Mushfiqul Fazal, Mark Schoeff, Amanda Macias, Donna Leinwand Leger, Kevin Wensing, Kimberly Adams, Mark Hamrick,Emel Akan Frank Islam and Chief of Staff Susan Varga among others, were present.
President Donald Trump is rebuilding the economy by changing psychology with his exuberance and optimism and by policies, Kudlow said
"He ended the war on business. He ended the war on success. He believes strongly that if you do well and succeed, you should be rewarded, not punished," Kudlow said.
He said the United States and China were making progress in the talks and he was "cautiously optimistic" about the prospects for striking a deal.
Kudlow's remarks came amid rising support for policies among members of the Democratic Party such as Medicare for All and the Green New Deal. The Trump administration repeatedly has accused Democrats of going "far to the left" and becoming "radical" for embracing such ideas.
"But most of all, from my standpoint as an economics guy, they don't have prosperity. They generate poverty," Kudlow said.
"We are at the beginning of a new prosperity wave in this country. We are the hottest economy in the world. Confidence is building," he said. "Why would we want to pursue policies that could—I think in total—slice 15 percent of GDP right out within 10 years?"
"We've gotten closer and we're still working on the issues, so-called structural issues, technology transfers," Kudlow added. "Ownership enforcement is absolutely crucial. Lowering barriers to buy and sell agriculture and industrial commodities. It's all on the table."
Separately, Kudlow stressed that he believed in the Federal Reserve's independence. He defended Trump's comments about desiring lower interest rates, stating that he was expressing his opinions.
Trump has repeatedly criticized the Fed for raising rates. He also denounced the central bank's balance sheet reduction program.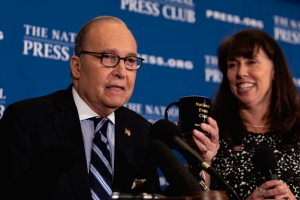 "The President believes and I contend that Fed's target rate should be lower," Kudlow said.
When asked whether Trump knows about the Fed's dual mandate, which are maximum employment and stable prices, Kudlow said, "Of course he does."
"Yeah, he gets it. He's a smart guy, very well informed. Trust me," he said.
Kudlow also noted that economic growth in the first quarter was "coming in much stronger than a lot of us feared," and repeated that growth would be 3 percent in 2019.
On the border, he described the present situation as an emergency of wall breaking, drug trafficking, child trafficking, humanitarian issues and subversion of American laws. "It needs to be fixed," he said. "The president is working on it."
"We would like to move to a merit-based system as many other countries have. We would like to move away from a family-chain base," he said.
Kudlow said his views about immigration have changed. He and Stephen Moore, Trump's Fed board nominee, once criticized Trump's position on immigration.
"That was right at the beginning of the campaign. There was a lot of misinformation. There was a lot of rumors. We had the story wrong. That often happens," Kudlow explained.
"The more we learned, the more we changed our view on this. I think the president has very sound immigration views frankly, once we got to know more about that."
https://www.c-span.org/video/?459866-1/larry-kudlow-addresses-national-press-club-washington-dc
GY