Dhaka, Aug 31 (Just News): BNP is going to celebrate its 40th founding anniversary across the country on Saturday with various programmes.
On September 1, 1978, Shaheed President Ziaur Rahman founded the party with a 19-point programme to build a self-reliant Bangladesh.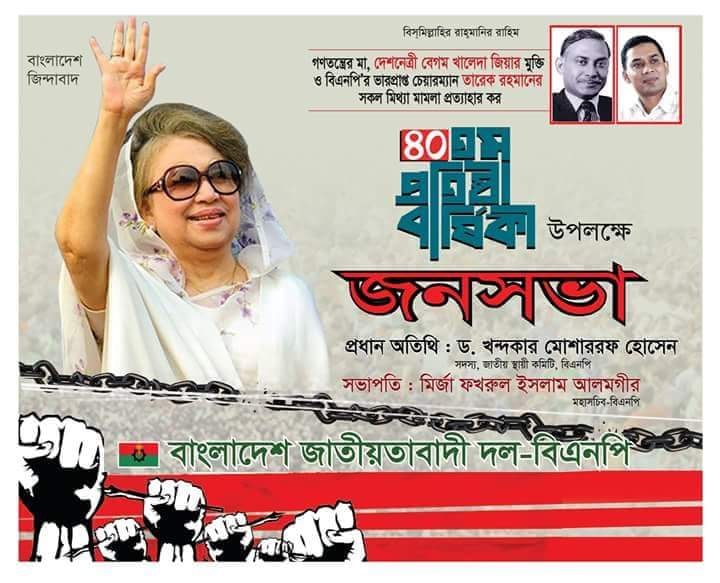 BNP and its associate bodies have taken up elaborate programmes, including holding discussions, public meetings, hoisting party flag, placing wreaths at the grave of party founder and taking out a colourful procession, to mark the day.
The party will hold a public rally in front of its Nayapaltan central office at 2pm.
Party senior leaders said they have a plan for a 'massive showdown' in the rally to invigorate its rank and file ahead of the next general election.
The party flag will be hoisted atop BNP's Nayapaltan central office and all other offices across the country at 6am on the day.
Besides, the party leaders and activists will place wreaths and offer munajat (special prayers) at the grave of its founder Shaheed President Ziaur Rahman at 10am.
The party will also arrange a discussion at the Institution of Engineers, Bangladesh on Sunday.
Besides, the party's associate bodies and all of its units across the country will mark the day holding various programmes, including discussion meetings.
BNP is set to celebrate its founding anniversary this year sans its Chairperson Begum Khaleda Zia as she has been in jail since February 8 after a lower court convicted her in a case.
After the assassination of Zia on May 30, 1981 in Chattogram, his widow Begum Khaleda Zia took over the party leadership.
In its 38 years' journey, BNP had been in power for four times and in opposition bench twice. But following the January-5, 2014 election boycott, the party is also out of parliament now.
BNP has been out of power for over 11 years since the 1/11 political changeover.
(Justnews/ys/2340hr)