Special Correspondent
Richard Lugar, the former Indiana senator whose work in pursuit of nuclear nonproliferation helped cement his place as one of the Republican Party's most influential voices on foreign policy, died Sunday.
Lugar, the longest serving member of Congress from Indiana, died at Inova Fairfax Heart and Vascular Institute in Virginia. The cause of death was complications from chronic inflammatory demylinating polyneuropathy. He was 87.
Lugar's political career began in 1964 when he was elected to the Indianapolis Board of School Commissioners. As the school board's vice president, he worked to desegregate the city's schools, according to The Indianapolis Star.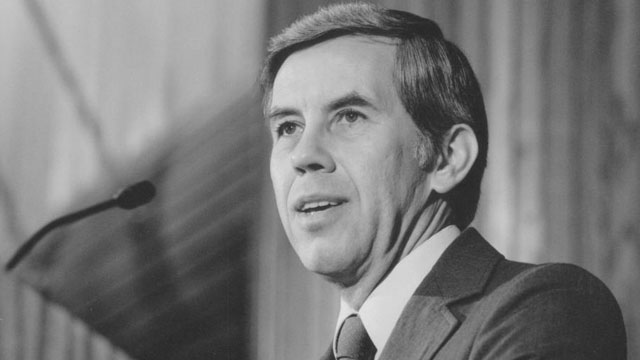 He went on to serve two terms as Indianapolis' mayor before his election to the U.S. Senate in 1976.
During his time in the Senate, Lugar twice served as chairman of the Foreign Relations Committee and eventually became the longest-serving senator in Indiana history.
And in the Senate, Lugar would turn his focus to the issue of nuclear nonproliferation. The work was fueled by his concerns that even as the Cold War was ending, the weapons of mass destruction created as a result of the conflict would continue to pose a threat.
Hagel served 12 years in the Senate with Lugar, including a time when both were on the Foreign Relations Committee. In 2012, Hagel said Lugar is "the kind of public servant and elected official the country expects and deserves. He's not driven by ideology, but makes decisions based on what's best for the country."
Following Lugar's defeat in 2012, Obama would go on to award him the Presidential Medal of Freedom, the nation's highest civilian honor.
As Obama gave Lugar the award, he said Lugar's legacy "is the thousands of missiles and bombers and submarines and warheads that no longer threaten us."
A former mayor of Indianapolis, Lugar founded the Lugar Center in 2013, a think tank devoted to issues he spent his career pursuing, such as nuclear disarmament, food and energy security and governance.
Lugar became Washington National Club member in March 2017 shortly after the Lugar Center moved to the Willard Office Building. Lugar would walk across the street three times a week to have lunch at the Reliable Source.
Lugar had a fondness for the press dating back to being co-editor of his high school newspaper. Throughout his career, he consumed at least six newspapers a day, clipping and filing stories for later reference.
He was drawn to the Club as a speaker and lunch regular because of the dynamic people he could meet and enriching conversations he could have there.
"He also admired the work of the Press Club over his many years as a senator and thought the venue was a great place for serious exchanges between policymakers and the press," said Dan Diller, policy director at the Lugar Center and a longtime top Lugar Senate aide.
YS