Dhaka, Aug 5 (Just News): Police fired teargas shells to disperse protesting students who tried to take position at Jhigatola intersection to continue their protest demanding safe roads, while the ruling party's student front members attacked protesters in Dhanmondi-1 area this noon.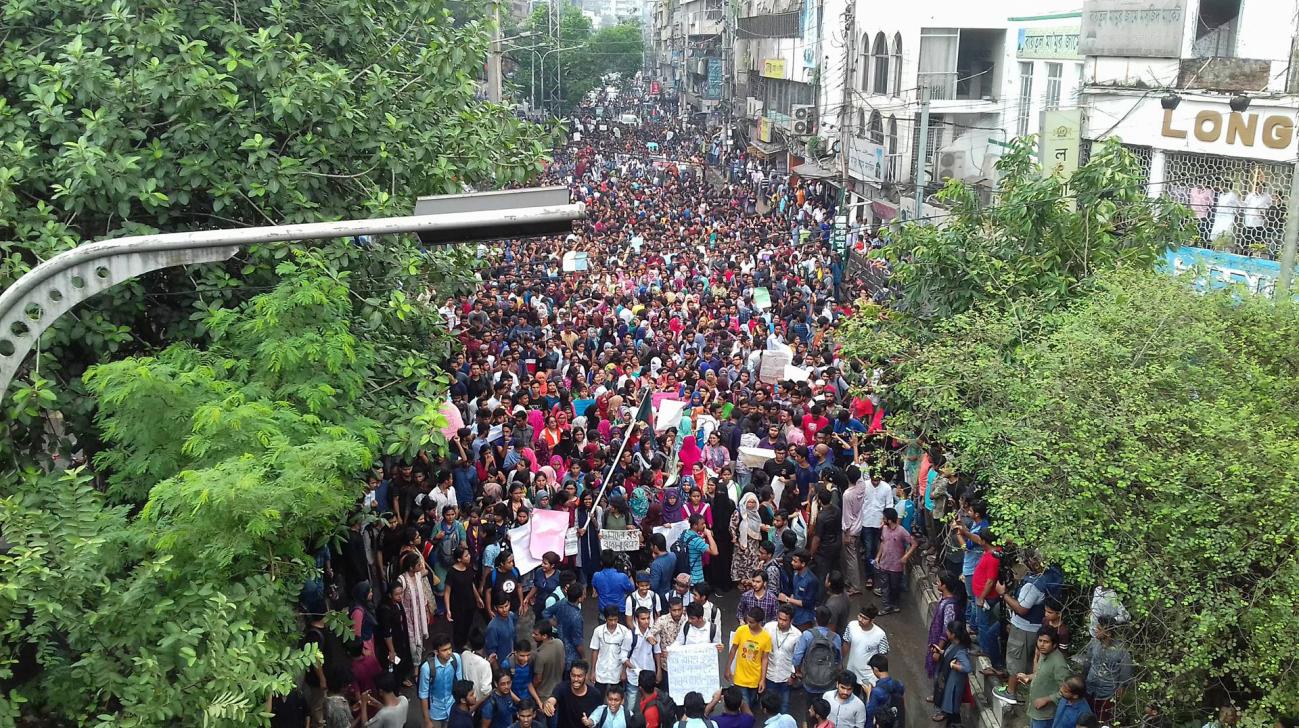 At least hundred protesters were injured during the attack reportedly by the Bangladesh Chhatra League activists.
Taking position at the Science Lab intersection around noon, students started controlling the traffic for the eighth consecutive day as part of their protest.
After an hour, several hundred students from Dhaka University (DU) and Bangladesh University of Engineering and Technology (BUET) joined the gathering at Science Lab with a procession.
Later, all the students with a big procession reached Rifles Square in Jhigatola at 12:55pm and started a sit-in-programme there.
At one stage, police lobbed about 20-25 tear gas canisters in the area to disperse the student protesters and bring the situation under control.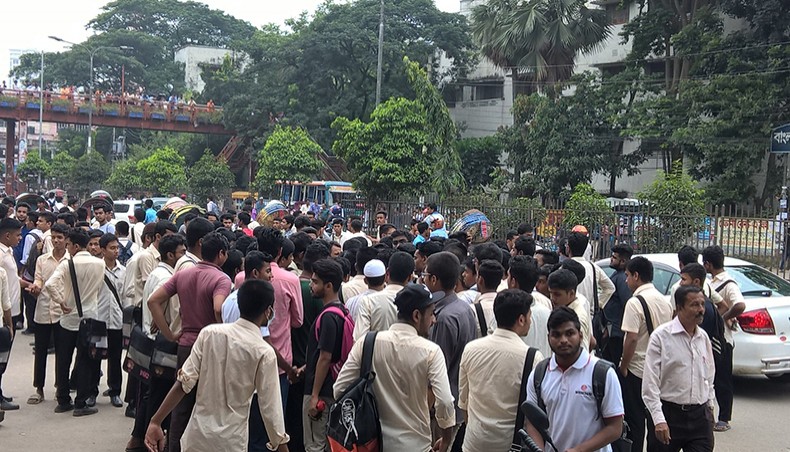 Huge number of police personnel took position at Jhigatola bus stand.
The situation became normal around 1:15pm in Jhigatola area as the students returned to Science Lab, our staff correspondent reports from the spot.
But police against fired at least eight rounds of tear shells to disperse them from Science Lab area.
Students took position at different points of the area and no vehicles were allowed to pass through the area till filing this report at 1:39pm.
A team of Bangladesh Border Guard (BGB) were seen taking position in front of BGB gate-4 at that time and assisted students and pedestrians, who were trapped in different alleys, to move to safe zone.
Around 1:50pm, a group of 300-400 BCL men of Dhaka College unit appeared the scene wearing helmets and chased the students who took position in Dhanmondi 1 area. They also threw brick chips at the students.
Later, the BCL men attacked students with sticks, leaving four injured.
Besides, another group of 200 BCL men were seen staging showdown in front of Dhanmondi Awami League office around 2:15pm.
Some women were also reportedly assaulted by the BCL men near Star Kabab in Dhanmondi.
Banani: Hundreds of students of different universities including South East, Prime Asia and Northern universities have blocked the Banani intersection, halting traffic on the busy road.
Mirpur-10: Police today barred a procession of the protesters as they did not allow any crowd to gather at the intersection or any other nearby places, reports our staff correspondent from the spot.
Around 200 students gathered at Mirpur 2 and moved in a procession towards Mirpur-10 around 12:15pm chanting slogans, "We want justice". But after being barred by the law enforcers, they returned from where they started.
5 photojournalists hurt in BCL attack
The BCL men, equipped with iron roads and sticks, also chased nearly 50 journalists in front of Science Lab around 2:00pm.
In presence of policemen, they also attacked five photojournalists -- AM Ahad of AP, Palash of Daily Bonik Barta, and three others whose identity could not be known immediately -- leaving them injured.
Policemen did not play any role during the BCL attack, our correspondent reports from the spot.
The students' protest demanding safe roads and justice for two deceased peers took a horrifying turn as members of the ruling Awami League's student wing attacked them at Jhigatola yesterday afternoon injuring hundreds of students.
Amid the protests, police have started "traffic week" across the country from today.
(Justnews/ys/12.20hr)