Dhaka, Nov 14 (Just News): BNP activists clashed with the police in front of the party headquarters at Naya Paltan on Wednesday.
The skirmish broke out at 1 pm when a large number of BNP activists flocking the party office to collect nomination.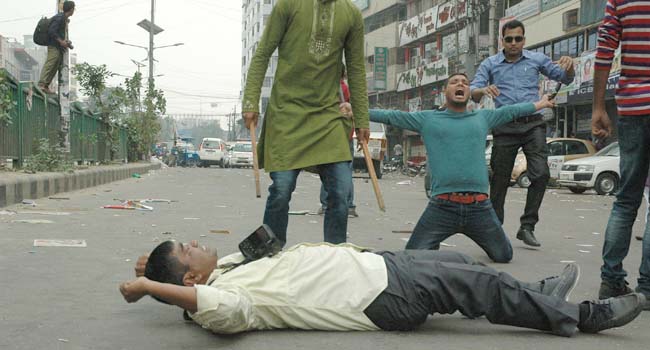 When a large BNP rally led by senior leader Mirza Abbas gathered the roads and the police fired a couple of blanks in an effort to make the activists leave the road and move their rally to the footpath.
This provoked the activists into attacking the police. Once the police started to fire rubber bullets and lobbing tear shells at them, they countered with shoes, bricks and many other objects.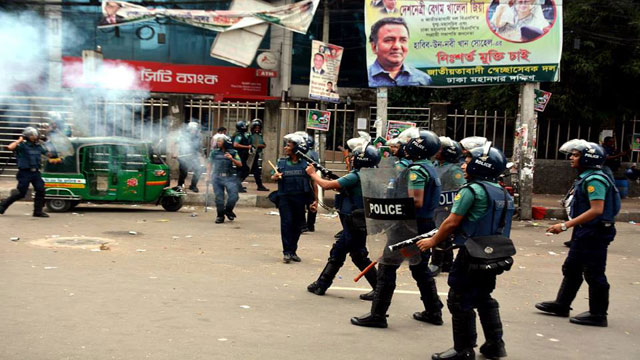 The police lobbed teargas and fired rubber bullets to control the situation and BNP supporters were seen torching police cars during the clash.
"Mizanur Rahman (timesofbangla.com) and a lady named Feroza Begum were injured during the clash," said Jubodal central committee member Gias Uddin Mamun.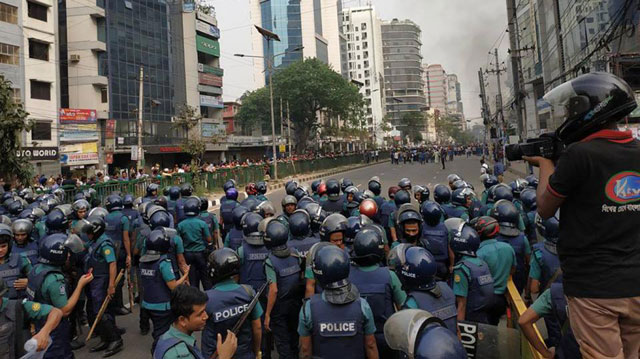 Gias said that the sale of nomination forms have been halted following the feud, adding, "Today was the third day to collect the nomination."
Issuing a statement on behalf of party acting chief Tarique Rahman and Secretary General Mirza Fakhrul Islam Alamgir, Senior Joint Secretary General Ruhul Kabir Rizvi said to the activists, "I request you all to move to the footpath peacefully."
"The leaders were collecting the nomination forms peacefully when the police led an unprovoked attack on them. I strongly condemn this incident," he lashed out.
Addressing the police he requested them to not do anything that will foil the spirit of peace and democracy.
A group of physicians were seen treating the injured in front of the party office and Rizvi claims that around 20 leaders were injured during the violent altercation.
On the other hand, police claim that they were maintaining a peaceful stance when the BNP activists attacked them without any provocation.
"Around ten of our men have been injured. The number may rise," said Dhaka Metropolitan Police Deputy Commissioner (Motijheel branch) Anwar Hossain.
"They have torched two of our vehicles but no one has been arrested or detained in this matter," he added.
Anwar also said any further steps will be taken after an order from the higher echelon.