M Mushfiqul Fazal from Washington, May 10 (Just News): The United States President Donald Trump made the impossible possible one as three American detainees freed from arch-rival North Korea and landed safely to their home on Thursday. The whole world observed this dramatic change with the North Korea and fruitful diplomacy of the USA.
The President with the First Lady Melania Trump warmly welcomed the three great Americans at the Joint Base Andrews early morning .
In this historic moment President Trump said "This is a great honor. Hopefully everything is going to work out at the highest level. We want to thank Kim Jong-un, who really was excellent to these three incredible people."
The plane bearing the returnees from North Korea landed at Andrews Air Force Base at 2:42 am. After landing, the plane bearing the returnees from North Korea taxied towards the large American flag backdrop. It came to a stop at 2:49 am.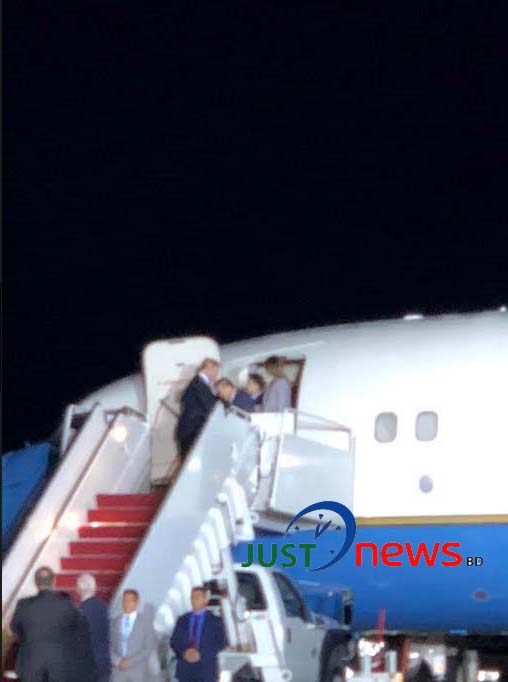 President Trump left the terminal four minutes later and walked towards the plane accompanied by First Lady Melania Trump, Vice President Mike Pence, and Second Lady Karen Pence, and Secretary of State Mike Pompeo.
The president and the First Lady boarded the plane at about 2:54 am. The Pences and the Secretary of State remained on the tarmac.
Trump walked onto the steps outside the plane at 3:00 am accompanied by his wife and the three proud American returnees. They shook hands. One of the men pumped his hands in the air as Trump clapped.
About two minutes later, Trump brought the men up to the assembled reporters and they all spoke to the press for over seven minutes.
In reply to a question on this release of the Americans Trump said "My proudest achievement will be -- this is a part of it -- but will be when we denuclearize that entire peninsula. This is what people have been waiting for for a long time."
Praising North Korea leader Kim, Trump said "We very much appreciate that he allowed them to go before the meeting. It was sort of understood that we'd be able to get these three terrific people during the meeting and bring them home after the meeting. And he was nice in letting them go before the meeting. I mean, frankly, we didn't think this was going to happen, and it did."
"I think our Secretary of State, despite the fact that the New York Times said he was missing -- he was in North Korea -- but I think our Secretary of State has done a fantastic job. Mike, did you know that you were missing? They couldn't find you. They couldn't find him. They couldn't find him because he was in North Korea," he added.
Expressing hope over meeting with Kim, the US President said "Well, we're starting off on a new footing. This is a wonderful thing that he released the folks early. That was a big thing. Very important to me. And I really think we have a very good chance of doing something very meaningful. And if anybody would have said that 5 years ago, 10 years ago, even a year ago, you would have said that's not possible. So a lot -- I will say this: A lot of very good things have happened."
Trump said, "It's never been taken this far. There's never been a relationship like this. And we're starting from here. But I really think a lot of progress has been made. And we'll see what happens. We're talking about a few weeks. I guess many of you will be with us. But some great things can happen, and that's what we hope."
"So I want to thank you all. It's very early in the morning. I think you probably broke the all-time, in history, television rating for three o'clock in the morning -- that I would say." he added
Expressing his satisfaction of the release the President said, "But I want to just congratulate. These are three great people, and congratulations."
Three detainees are, Kim Dong Chul, Kim Sang Duk (Tony Kim), and Kim Hak Song.
They expressed their gratitude to the nation as "We would like to express our deep appreciation to the United States government, President Trump, Secretary Pompeo, and the people of the United States for bringing us home. We thank God, and all our families and friends who prayed for us and for our return. God Bless America, the greatest nation in the world."
One of the them said, "it looks like a dream. We never think we can ever be back. "
(Justnews/ys/0200hr)