M Mushfiqul Fazal
Expressing concern over the ongoing human rights violation in Bangladesh, the United States Congressman Jamie Raskin has asked his country's administration to stand with the people of Bangladesh, especially those bravest and most vulnerable.
"Madam Speaker, I rise today in solidarity with the people of Bangladesh. I want to voice my support for human rights defenders, members of minority groups, and civil society in Bangladesh at this moment when the Bangladeshi government is persisting in threatening the basic human rights and civil liberties of its people. The Bangladeshi government, led by Sheikh Hasina of the Awami League, has earned widespread criticism for its deteriorating human rights record, and for its failure to protect the most vulnerable people living in Bangladesh-indigenous people, women, religious minorities, activists, and refugees," said the chairman of the Subcommittee on Civil Rights and Civil Liberties while delivering his speech at the 2nd sessions of Congress in US capitol hill on Thursday.
He urged the Bangladeshi government to take immediate action to respect the civil rights and safety of all the people of Bangladesh.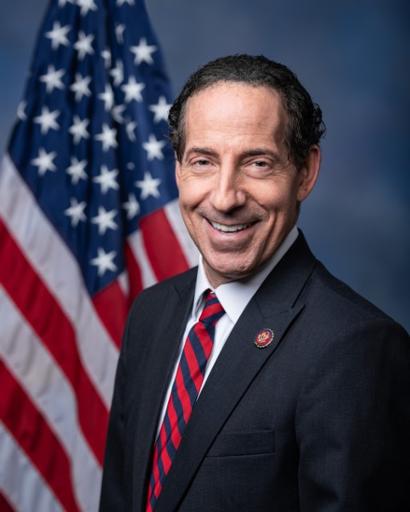 Congressman Jamie Raskin said, "Amnesty International tracks human rights abuses in Bangladesh and has noted their acceleration during the pandemic. Under the draconian Digital Security Act of 2018, Bangladeshi journalists and other human rights defenders are routinely persecuted for reporting on corruption or criticizing any of the government's policies. COVID–19 policies against public gatherings have been used to prevent political meetings, and to quell public protests against the government. Violence against women and indigenous activists has also intensified during the pandemic."
About RAB and other security forces, the lead impeachment manager for the second impeachment of President Donald Trump Congressman Raskin said, "The Bangladeshi government employs a joint task force composed of members of police, military, and border guards called the Rapid Action Battalion, and it has consistently failed to address the excesses of these and other security forces. The Rapid Action Battalion and other Bangladeshi law enforcement entities are alleged to be responsible for more than 600 disappearances since 2009 and nearly 600 extrajudicial killings since 2018. These incidents reportedly target opposition party members, journalists, and human rights activists."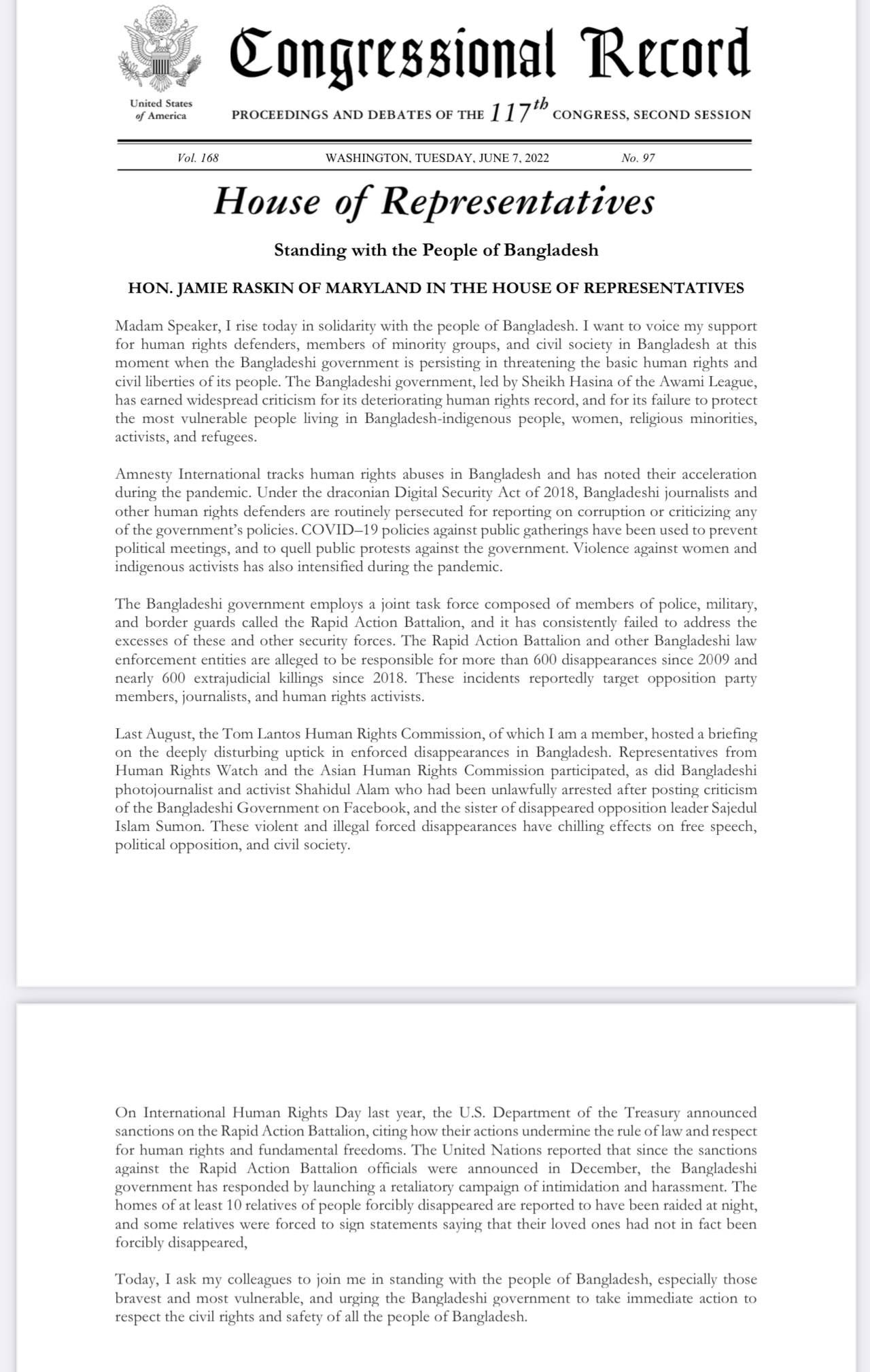 He said, "Last August, the Tom Lantos Human Rights Commission, of which I am a member, hosted a briefing on the deeply disturbing uptick in enforced disappearances in Bangladesh. Representatives from Human Rights Watch and the Asian Human Rights Commission participated, as did Bangladeshi photojournalist and activist Shahidul Alam who had been unlawfully arrested after posting criticism of the Bangladeshi Government on Facebook, and the sister of disappeared opposition leader Sajedul Islam Sumon. These violent and illegal forced disappearances have chilling effects on free speech, political opposition, and civil society."
Mentioning US sanctions on RAB, member of the House Judiciary Committee Jamie Raskin said, "On International Human Rights Day last year, the U.S. Department of the Treasury announced sanctions on the Rapid Action Battalion, citing how their actions undermine the rule of law and respect for human rights and fundamental freedoms. The United Nations reported that since the sanctions against the Rapid Action Battalion officials were announced in December, the Bangladeshi government has responded by launching a retaliatory campaign of intimidation and harassment. The homes of at least 10 relatives of people forcibly disappeared are reported to have been raided at night, and some relatives were forced to sign statements saying that their loved ones had not in fact been forcibly disappeared."
He further said, "Today, I ask my colleagues to join me in standing with the people of Bangladesh, especially those bravest and most vulnerable, and urging the Bangladeshi government to take immediate action to respect the civil rights and safety of all the people of Bangladesh."
NM/